I recently compered the wonderful 2nd (ever) annual Reading Volunteer Awards (red dress last year, navy dress this year!) hosted by Reading Voluntary Action (RVA). http://rva.org.uk/volawards2018/.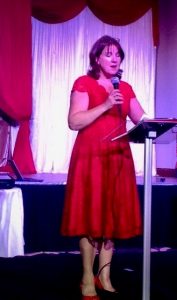 Until last year's event, I had tended to be luke-warm about 'awards'. Surely just going to people for doing their well-paid jobs?
But I was completely converted, bowled over by our local celebration of so much wonderful work, which people didn't have to do, and for which they were not paid. I hadn't realised how pleased and honoured the award recipients would be, and what strong and vibrant teams make up our local voluntary sector.
It was special and glamorous to have the Shenai Olympia Ballroom as the venue (a wonderful piece of in-kind support).  http://www.shehnaigroup.co.uk
With the glitter ball revolving and the tables and chairs draped in white, delicious food was served from silver warmers that looked like sea creatures from outer space. Guests were welcomed by the sound of Chord Capers, delightful dancers from the Reading Nepalese Association, and specially composed music from Tyler Clapham.
And the lovely Mayor of Reading Cllr Debs Edwards in a vibrant red jacket, giving the awards. She herself has a long and honourable history of local voluntary action.
I  was really impressed by the range of activities represented, and the huge diversity of people who have been making a difference in Reading. And really proud of RVA (of which I am a long-standing trustee) for making it happen.
In the words of Calum, one of the RVA's community journalists: "Without such people, some things would simply not be possible. Organisations would not have the reach they do, lives would not be changed for the better, and the world would be a darker place without their kindness."
And it was great to be showcasing so much local action. Steve Hendry, RVA, who organised the event, said: "It's all about volunteering in the town and celebrating the difference that volunteers and volunteering make to Reading, recognising those volunteers who are doing their bit to make Reading a better place.  It's one of the things that makes Reading unique … if you look at what's going on in all the different communities it's just amazing really."
You can see all the photos on the RVA website. http://rva.org.uk/volawards2018/
The event was featured on That's Thames Valley TV. You can watch the interview below (I'm in it – and wasn't expecting to be!):
https://www.youtube.com/watch?v=Uj_WfPAaFOs&feature=youtu.be
So – onwards and upwards to next year!  A fabulous and easy opportunity for local businesses to support a high profile, photogenic local event. Sponsorship needed now!
 Karen Morton, 19th July 2018