What we do: Training
Designed to be enjoyable and engaging whilst delivering tangible learning.  We offer the following 'off-the-shelf' courses, or can put together a day to deliver the outcomes you need.
Partnership development
Partnerships are expensive, so it is crucial not to waste time. But how effective are yours?
Good Governance
A strong and effective board is essential for any organisation
Better meetings
How to deliver clear outcomes and high satisfaction for all participants
Chairing skills
Get effective engagement, and ensure clear decision-making whilst making sure everyone goes home on time
Charity Fundraising
Never been more important
Facilitation skills
Whether a small working group or a large conference, you need the skills to balance the needs of participants with the required outcomes
Organising an event
How to ensure a really successful event that meets its objectives
We also deliver training on: charity law, leadership skills, networking,  mentoring, fundraising and finance, campaigning, organising events, business and project planning, train the trainer and many other areas to ensure really effective organisations, networks and partnerships.
Speak to us about designing a course to meet your needs.
Local Leadership and Mentoring
We have recently designed and delivered mentoring and leadership training to people with disabilities or long-term health problems >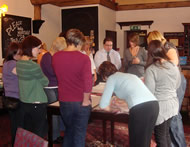 What they have said:
"Absolutely brilliant – excellent course"
"Trainer excellent"
"Relaxed environment which felt safe"
"Gave me more confidence"
"Lots of participation – excellent"
"Wonderful!"
"Interesting, engaging, right balance"
"Very good to listen to, very friendly and knowledgeable"
…….
I commissioned training from Karen on several occasions. She is the best trainer I have ever come across due to her creativity and enthusiasm. Working with Karen is always a great pleasure due to her excellent interpersonal skills. Karen is very reliable and knowledgeable on the subjects she provides training on.  Marlena O'Donnell, Partnerships Officer, Wokingham Borough Council